I wanted to share with you an easy DIY party decoration that any mom can do.
You can make these cute individual cupcake stands!
Here is what you need.
Glue- I used Aleene's multipurpose but wood glue or even hot glue would do the trick
Wooden Spindle pieces from Hobby Lobby
Flat Wooden Disks from Hobby Lobby
Paint- I used spray paint
To start take one of your wooden spindly pieces and place the larger end down.  This is going to be the base of your stand.  Glob a bunch of glue on the top of it and place your disk on top.
Look at that… it already looks pretty done.  If you had a natural color scheme you could leave it this color.
If not, the sky is the limit on  your color choices.  Hot pink, lime green, lavendar, turquoise?  You can make these match your party decor perfectly!
 I spray painted mine white.
 Then I wrapped a little dragonfly wire around it for decoration.
Voila, a totally custom party decoration!
Linked up to: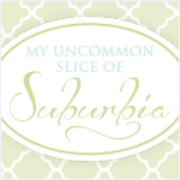 <